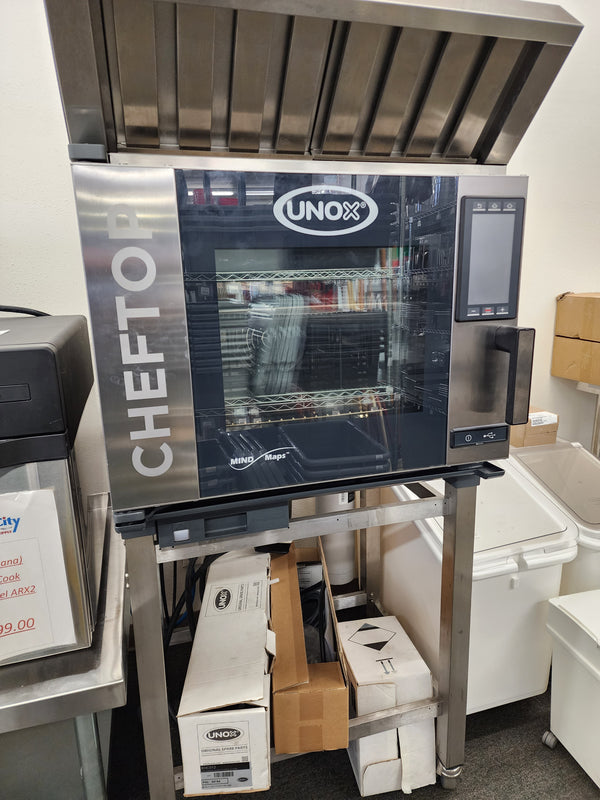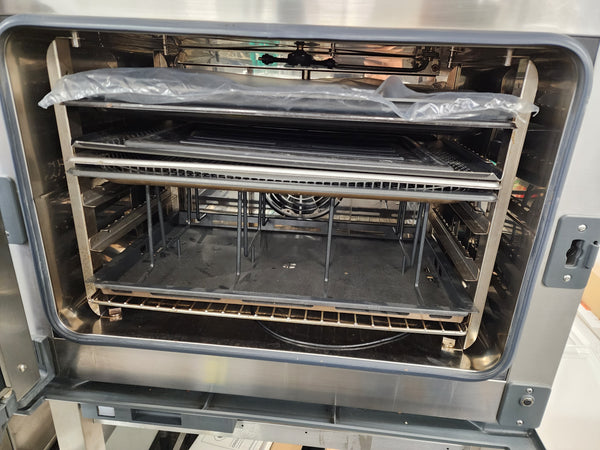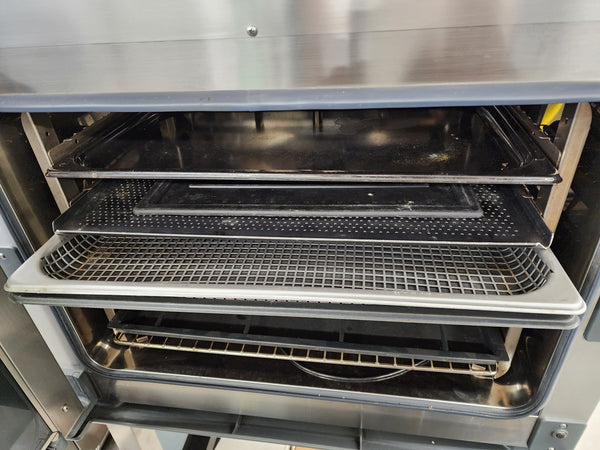 Unox XAVC-0511-EPR - ChefTop MIND.Map Plus Combi Oven - Electric
Unox XAVC-0511-EPR - ChefTop MIND.Map Plus Combi Oven - Electric
Fully Programmable - Holds (5) Full-Size x 2-1/2"D Food Pans - Self-Cleaning Modes
This thing is a great deal! At $10,000 this is a screaming deal!  The retail on this new would be over $15,000. This includes the ventless hood already installed, stand, cooking essentials kit, Chicken stand, water filtration system, and a full warranty!
If you are looking for a way to be more efficient at your restaurant, this is the way to go.  Unox also includes training on the use of the oven.
Demo unit in like new condition
 The versatility of a MIND.Maps Plus oven in a small countertop footprint! The Unox XAVC-0511-EPR is a combi oven with programmable recipes. This model requires a 208 - 240V electric supply and draws 19 amps. This combination oven holds five full-size food pans. Unox's ChefTop ovens have a variety of features that simplify complex cooking, steaming and grilling in your commercial kitchen. It's called intelligent cooking and it allows you to adjust programmed recipes based on load quantities or combining food types. This multi-purpose oven also cleans itself with an integrated detergent solution reservoir. The amazing food product you create will easily find the Unox XAVC-0511-EPR gas combi oven is an excellent value.
Cheftop MIND.Maps Plus Combi Oven
Electric
Holds (5) 12"x20" (2-1/2"D) Full-Size Food Pans
Manual Cooking Modes: Convection, Steam/Convection, Humidity/Convection, Steaming, Dry Air Cooking
(256) Fully Programmable Intelligent Cooking Programs
Full Color Screen for Programming and Monitoring
MISE.EN.PLACE Technology Synchronizes Food Loading so Every Pan is Ready at the Same Time
Adaptive Cooking, CLIMALUX, AUTO.SOFT and SMART.PREHEATING Features Ensure Perfect Results No Matter the Conditions or Product Load
Stainless Steel Cooking Cavity with Coved Corners
Stainless Steel C-Shaped Rack Rails with Notched Recesses for Easy Loading
(4) Automatic Cleaning Modes with Integrated Detergent Tank
Energy Star - NSF Listed
Dimensions:  29 9/16" WIDE x 30-7/16" DEEP x 26-5/8" TALL
Electrical:  208-240 Volts, Single OR 3 Phase, 5800 - 7700 Watts, 19 Amps, Cord and Plug Not Included
Plumbing:  3/4" NPT Inlet, Line Pressure 22 - 87 psi; 1-3/16" Drain Connection
document.addEventListener("DOMContentLoaded", function(event) { theme.productSelect('1','single', true);//sectionId, cssClass, historyState theme.selectWrapper(); });