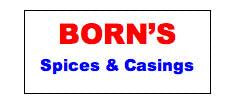 Born's Spices
Born's Meat Market was opened in 1908 by Fred Born Sr., in Richardton, North Dakota. Fred Sr. specialized in custom beef cutting and, traditional family recipes brought with him from Germany. His son Fred Jr., began working in the market in his youth, and eventually "took the reins" from his father in 1933.
Fred Jr. continued to run the business until passing it to his son in law, Charles F Wilz in 1978. Charles expanded the business into three successful markets with the production plant located in Richardton ND and satellites in Dickinson, and Bismarck ND, run by his sons Gary & Greg.  Born's Products were sold and delivered throughout North Dakota, South Dakota, and Montana. 
Born's was not immune to the economic impact of the "Carter Years" and closed the plant and satellite stores in 1984. Charles remained optimistic about the home sausage maker and continued to market Born's Spices to a very loyal customer base. During the first few years after the market closed Charles developed and began selling the DAKOTA WATERPACK SAUSSAGE STUFFER for the home sausage maker. Charles was awarded both the North Dakota and Minnesota Inventors Congress Best of Show Awards for the stuffer in 1990.
Born's Spices have been sold since 1908. Fred Born Sr., had many patrons that took the train from east to west stop in to buy his products. It was very difficult in the early 1900's to transport any quantities of meat and keep it fresh. Customers loved Fred Born's sausage so much, they asked him to mix and package seasonings so they could make Born's sausage at home. 
The original market was open through three generations; to include, Fred Sr., Fred Jr., & Grandson-in-Law, Charles Wilz. Charles sold the DAKOTAH WATERPACK SAUSAGE STUFFER business to "Elk Mountain Products" in 2003 (a link to their site can be found below). In 2005, Grant Wilz the Great-Grandson of Fred Sr. and a 4th generation sausage maker took over Born's Spices and Casings from his father Charles Wilz. Born's Spices and Casings is now a wholesale seasoning business.